« Back to Events
This event has passed.
Event:

The California Museum

Start:

October 1, 2012

End:

November 15, 2012

Cost:

$6-$7.50

Category:

Organizer:

Phone:

(916) 653-0399

Email:

Updated:

June 29, 2012
Venue:

The California Museum

Phone:

(916) 651-0934

Address:
Google Map

1020 O

,

Sacramento, CA

,

95814

,

United States
The California Museum engages, educates and enlightens people about California's rich history and its unique contributions to the world of ideas, innovation, the arts, and culture.
 Located in downtown Sacramento just a block from the State Capitol, the Museum offers an ever-changing array of interactive and innovative exhibits. Home of the California Hall of Fame, the Museum honored Julia Morgan in 2008 for her extraordinary body of work and for her inspirational role in breaking barriers for women in architecture. 
A large panel in the Museum galleries memorializes her induction into this institution that recognizes Californians who have made an indelible mark on history. Morgan also is highlighted in the Museum's ongoing California's Remarkable Women exhibit.
 The display features artifacts loaned by California State Parks including the plaster model Morgan and William Randolph Hearst used to help visualize Hearst Castle, along with original tiles and an alabaster light globe Morgan designed for the Castle.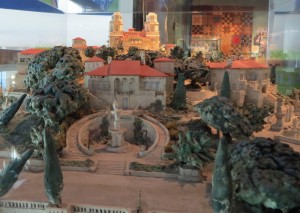 Open Tues.-Sat. 10-5 and Sun. 12-5.