1020 O Street
Sacramento
(916) 653-7524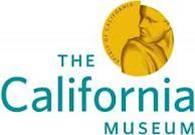 The California Museum— home of the California Hall of Fame — engages, educates and enlightens people aboutCalifornia's rich history and unique contributions to the world through ideas, innovation, the arts and culture. Through interactive and innovative experiences, the Museum inspires men, women and children to pursue the California dream and make a mark on history.
The California Museum opened in June of 1998 through a unique partnership with the State of California as a private non-profit institution focused on California history and culture. Under the development of the Secretary of State's office, the Museum was created to be the public showplace for contents of the California State Archives.
In 2003, former First Lady Maria Shriver began working with the Museum to expand its vision and mission. In 2004, "California's Remarkable Women" opened as the first of her many collaborative efforts with the Museum. Since then, the Museum's exhibitions have continued to emphasize stories not presented to reflect all aspects of California's diverse population and culture, with an emphasis on the contributions of women and under-represented groups.